Computer and PC Repair of Temecula
Computer Repair of Temecula is a certified provider of a wide range of computer services, and we are certified to repair both Apple and Microsoft products. Our team of professionals is equipped with the knowledge and expertise to fix a wide range of hardware and software problems for consumers. At Computer Repair of Temecula we guarantee the customer service besides the repair quality.
The company's start-up dates back to 1998 and have since grown to offer services for consumers in Temecula and surrounding areas as well as customers that contact them online for nationwide online support. The company specializes in a number of different common concerns that people encounter on different devices that they have in their homes and in their offices. All of these services and much more can be found online via their official website.
It's crucial to note that the world of computer repair services encompasses a wide range of problems and issues that computer users encounter on a regular basis. While some of these problems may be common and others are not, they may be too difficult for the average user to repair. So, this is where our team of professionals come in, especially since we have the knowledge, skills and the expertise to fix all kinds of different problems. Specifically, those that may cause the computer to begin to slow down to a crawl or stop completely in the midst of a user activities. That said, our team is prepared to do a number of things when they are contacted and they are as follows:
Identify the Types of Services Needed Fortunately, the services that we provide on a regular basis covers a large spectrum of areas so we can handle many different types of situations when contacted.
For instance, in some cases, the customer support team may get a request from an online residential customer that need the services that we provide remotely. The services that they request may entail fixing a problem that the customer is having with a slow computer. Or, they may have a problem with a virus that they know that has to be removed. In either case, the customer can obtain the services needed to fix the problem right away, and on the spot remotely as scheduled. Additionally, the customer does not have to be concerned about the price that they will be charged because the cost is posted online for every customer to see (i.e. residential customers are charged a flat rate of $50 per hour and businesses are charged a flat fee of $69 per hour). The flat rate price applies to several different kinds of computer repair problems including removing a virus, tuning up the computer, completing an internet set-up, fixing a crash on the system, recovering loss data and providing other kinds of services that deal with a new custom pc.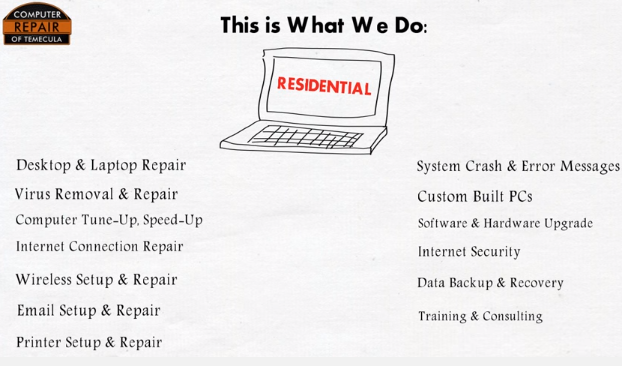 Service Networks
In some cases, the services needed may also be related to a business. This means they may need additional services that relate to networking several computers together, performing routine maintenance on a server, installing new software application and other things that can be associated with keeping a network server up and running smoothly. This services are essential to any business operation since it prevents very costly unnecessary downtime.
Repair all kinds of Different Devices
Further, because we know that computers are important today to any household (since they have become a staple like television sets), these are often repairs that need to be done correctly and take care of right away. Therefore, since we value our customers and their needs, we value their time in getting back to their regular routines as soon as possible. So, when our certified technicians services a customer within our local areas, we come equipped with the tools and resources needed to identify and fix the problem. Our preparation involves fixing a number of different specific devices that people possess including laptops, desktop computers, iMacs, Macbook and Macbook Pro. When visiting our website you will find that we offer a comprehensive list of services to consumers who encounter problems or simply need solutions that will prevent future issues from occurring.
So, for those of you who have imacs, desktops or laptop computers, you can review this list to see what may apply to one of your needs. In many instances small business owners have a number of different computers in their offices that they need to run their operations. In some cases, these computers may or may not be connected. In either case, we can assist business owners with ensuring their computers can provide their operations the appropriate support that's needed for both efficiency and effectiveness. For instance, the office that is being run without the computers being connected in a network infrastructure environment can be updated. Therefore, one of the first things that we will do is to assess the office needs and offer the best network set-up possible. It does not matter if the operation has 2 or 3 computers, they can be connected for maximum efficiency, especially in keeping everyone in the office on the same page in both software and hardware productivity. For example, when the office has a network that connects all of the computers in an office together, everyone can share the same printer and the same applications. Meaning the office does not have to buy new printers for each employee or purchase separate copies of Microsoft Office to install on each individual computer.
Another essential service that many consumers need is system diagnostics. With this kind of service, the technician can assess and verify a number of different issues of concerns. For instance, if the user is having a problem with a hard drive, the technician can tell if the hard drive is bad and need to be replaced or if it is a software problem that can be repaired with the new installation of an operating system. Set-up a Data Recovery System Many times a business secures all kinds of different important information from clients and customers that they need for future references. Or, they may need the information that they store to support their accounting systems so customers can pay their accounts on time. Regardless to the actual purpose or the reasons behind storing a company's data, it is essential that none of this data is lost. Avoiding these problems is not easy if the company does not have the best data recovery system in place.
That said, this is also where the services that our companies provide is more than needed in small and large businesses alike. The role that we play is to work with the business owner and their representatives to find a recovery process that will work best for them. For instance, in some cases, the owner and their representatives may choose a cloud based recovery system for their backup and restore process. If this is the solution that the company wants, our job is to make sure the migration to the cloud is completed within a specific time frame and no data is lost. Systems diagnostics and setting up a data recovery system is just a few of the most common services that we provide. Therefore, customers will have to check out our site to see others services that we are offer today such as system cleanup, network trouble shooting, HDD recovery, and much much more.
Our Services and Maintenance
The services that we offer provide a diversity of solutions for our customers and they can range from speeding up a computer so that it will run much faster for better productivity to setting up a new network for a business operation in order to share computer resources like printers, software applications, operating systems and the same email provider. These and other services can provide a quick fix for small problems in one computer (i.e. one use) or whole network so that everyone can access multiple applications at the same time.
Based on the client or the customer needs, our specialist can also provide preventive services and maintenance. One of the most important services that many businesses usually take advantage of is our custom network infrastructures. In these cases, the organization will have the capability to secure the data that they keep in one centralized place for their employees to access and manage whenever needed. These networks must be installed properly to prevent downtime and other issues of concern that can directly and indirectly affect the productivity in an office. To obtain these and other services, all the business owner has to do is request the services that they need via the form that is provided on the official site. Or, they may contact the technician customer support line to discuss a specific problem so that they can receive the proper direction in taking care of the issues.
What makes our service distinctive?
It's not uncommon for computer repair companies to provide the same or very similar services to their customers. With that being said, what does make the services that we offer distinct from others in the industry. Well, fortunately, there are significant distinctions that our staff is proud of, and they are as follows:
We offer both online and local support to computer users that need help. Meaning we can fix problems at a customer's home or their business office when they request it. All the customer has to do is put in a request via the company's customer line or by using the internet to request a quote. The services can be provided in one of two ways.
For a customer that resides within one of the Temecula's area, a licensed technician can be sent onsite to offer and provide the services needed. For the consumer who is located in another area of the country, our team of professionals are trained to identify and fix the problem that is occurring remotely. This means the technician does not have to be onsite to look at the problem in order to get the customer's computer up and running again. To read more about our services, please visit our website at comuterrepairoftemecula.com.