Read About Computer Repair in Murrieta & Temecula Services
Computers are prone to damage from time to time. This brings about the need to get a reliable technician in repairing and maintenance of the computers and servers as well as updating the software. There is also the need to configure new hardware for better performance of your computer and not forgetting the creation and maintenance of computer networks. Computers can be very stressful when stop working without any warning at all. It is even more stressful when you have no idea of solving the problem. This is exactly why you need a convenient technician who is friendly and one who provides professional services. With such a technician your computer will be running again in no time.
Many computer repair shops take advantage of customers with little know how on computers and their operations. Most people lose a lot of money for no reason through lies told by technicians. You may end up paying more for a simple problem and solving that simple problem may even take longer to repair. There is always the need to get a trusted computer technician to get the job done in good time and for the right cost. The technicians know that most of us are incapable of judging whether the computer service was done in an efficient way. This gives them a chance to leave problems which make sure you keep calling them from time to time and they will gladly dig into your pockets.
Almost all companies are in need of IT services in the modern world. There is a great need to maintain a smooth operation. When lacking the IT services, computer systems may break down and even lose some operational abilities. Frequent and proper checks must be done so that you can utilize your computers fully without any limitation.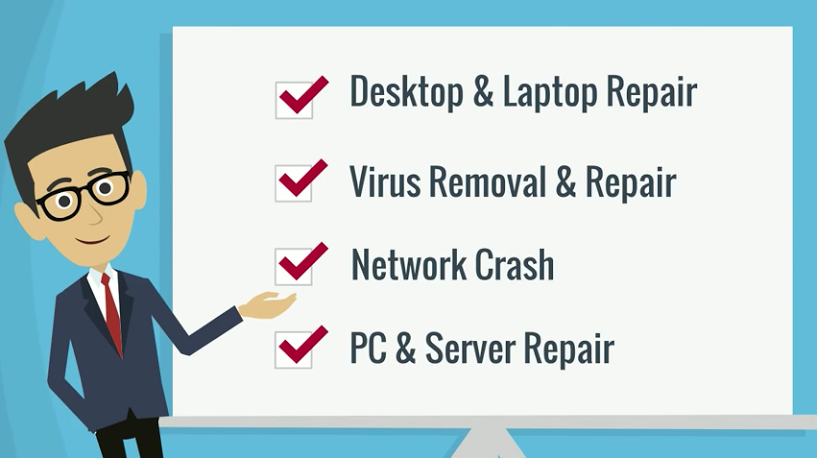 Benefits of outsourcing computer repair services.
Computer problems are not always there
Computers may be working in good condition for a very long while. If this is the case, then there is no need to employ a computer technician permanently. The technician will be very idle for the better part of the period and you will still pay him. There is no need to pay the person for services that are not being provided. It is better to only have someone when you need them rather than having someone idle around while the rest of the company members are working and yet everyone will get paid at the end of the day.
Offsetting unnecessary costs
When you have a permanent technician, you will have to create room for him at the working place. This means that he needs an office to work in. This translates to a higher cost at the end of the day since the room is not the only thing that will be in that office but also the office equipment's and chairs and desks. The situation might also lead to congestion in the work place. You will be stressing your resources for no reason at all. You can easily escape this one by outsourcing.
Cost efficient services
Many companies provide IT services which include computer repair and computer maintenance. Most of these companies will tend to always provide solutions that are cost efficient and will be much cheaper than having the repair done at the company. Also, most IT companies have computer spare parts which they offer at discounted prices. This is something that the in-house IT service team can definitely not be in a position to offer. You will enjoy this luxury while smiling all the way to a well performing computer system.
Expert solutions
IT service companies are well experienced in the art. They have been involved in repairing many computers and this is something that is common to them. They can easily identify the problem with your computer and solve in no time. You can be totally convinced that IT companies will finish the repairs in half the time and get your computer systems up in no time. Also, they might be required elsewhere and this will make sure they attend to you in the fastest means possible.
Reliable
There is nothing that is as good as having someone to answer your every call. It feels delighting, isn't it? The moment you know you can rely on someone to solve your every computer problem and give the right answers, you can work comfortably without having to worry about a thing. Outsourcing gives you this privilege. The IT companies are always ready to serve you because they would not like to be in a position where they are competing for their customers. Let us face it, you are their first priority.
However, these benefits can only be found with highly trusted IT companies. Most companies are out there to take advantage of their clients but this is not the case with computer repair in Murrieta. When you are in need of computer repair services I Murrieta, you need not look any further. They are just the right people to get the job done.
The services We Offer
Cell phone and tablet repair
People break the screen of their phones every day. It is not something unusual. It is very uncomfortable to walk with a phone that has a broken screen. It is sometimes difficult to use the phone because the screen is usually very rough and it might cease to become operational even. Apple iPhone and the iPad can be a big issue to repair but Computer Repair in Murrieta will do it for you. If you become unlucky, they might just make you feel lucky again. You can give them a call in case you do not want to do it yourself. You will be back to using your device in not more than forty five minutes.
Mac repair
The company also offers exceptional Macintosh apple repair services. Working so long on something and doing it all over again makes you an expert at doing it. For a great period of time, they have been dealing with Mac hardware and software. They can fix any problem related with your Macintosh as long as it is fixable. They also cover iMac, MacBook, MacBook Pro, Mac Pro, iBook, G4, Powerbook and G5. You can put your trust on them to do a commendable job.
Website and SEO services
When you want a platform that offers unique benefits, they can create it for you. Computer Repair in Murreita will answer to all your needs concerning SEO services and web design. Do not hesitate to contact them to do it for you.
Data Backup and file transfer
There is always the need to backup your data so that in case you accidentally lose it. It will be a better option to recover it. It is usually recommended that you backup data occasionally but most people rarely do it. You might have the knowledge of doing so but due to many commitments you end up not doing it. In case your data is damaged and you did not see it coming, do not worry too much. Data can be accidentally deleted, stolen or eaten up by a virus. The company can help you recover your valuable data and you can be assured that they will keep it safe for you.
Wired and wireless networking
Whenever you want the freedom of networking from different places, wireless network is just the thing for you. It allows you to make connections wherever you are as long as the network is available. This provides for convenience and ease access to resources. When you want to access the internet from your garden, bedroom or garage and other places, talk to Computer Repair in Murreita and they will make it possible for you to do so.
Internet clean up and spyware
When you are using you computer, it might build up some temporary files that cause problems in your computer. These files are hardly deleted and they are usually responsible for slowing down your computer system. The company provides services for removal of browser hijacks and deleting of all hidden temporary files. They can easily turn your computer back to life with no time.
Computer preventative maintenance
One thing that is very important is keeping your computer up to date and secure. Just like other machines, your computer requires care always so that it performs to its full potential. Failure to do so will make your computer become very slow and it will start experiencing many problems. You need to solve the problems in case they occur and an even better option; prevent them before they come to be. The service will be well conducted by the company to your content.
Virus detection and removal
Viruses cause computers to act in strange ways. It may start doing some things that you are not in control of and this means that it is infested with malware, viruses or spyware. Some of this ways may surprise you and they may make you wonder what is happening with your machine. Some of these problems usually start as something small but they end up getting worse with time. Computer Repair in Murreita is there to make sure you wonder no more. They will take care of all your computer plus laptop repair problems in a very short period of time.
Why Computer Repair in Murreita
Computer Repair in Murreita gives every possible reason to trust them with your computer and computer systems. You will rarely find someone who answers to your every call and restores your peace of mind with the shortest period possible. The experts know exactly where the problem is and just the right part to touch. With years of experience, Computer Repair in Murreita has accumulated adequate knowledge to perform what most computer repair companies fail to do. Convenience is assured and they are always available to solve the problems as they come.
There are very many services that Computer Repair in Murreita offer for you to take part in so as to be sure that your computer system is secure. The services include preventative ones that involve data backup services and file transfer services. For these services you can be sure that if anything happens to your computer at any given time, the files will always be safer in another location. There is also the other option of preventative maintenance for your computer. This option allows you to be assured by Computer Repair in Murreita beyond doubt that your system is up to date and very secure.
In addition to the above, the company also provides services which address the problems which may be affecting your system. These problems are like the virus detection services and the virus removal ones. This will let them get rid of viruses in your system. All the services offered by the company are done so in a professional manner and you will hardly hear any complaints from clients who have received services from them. They offer the most excellent service there is and they give you no reason to doubt their expertise. Why should you keep your computer in a bad state when you can have experts to do the reverse? Computer Repair in Murreita is definitely something you want to try out. Take the step and make sure you have someone who you can trust with your business since computers hold every possible data of your business. It is always good to make the best out of your time and having your computers performing at their best is a great option to do so.
Contact Us
Locating Computer Repair in Murreita is not so difficult. Whenever you are in need of their services, do not hesitate to contact them. You can get to them by calling them on their phone number; 951-795-9600. You can also reach them through their email which is computerrepairoftemecula@gmail.com. They will always be there to answer your every call and give you the best service you can ever get. This is an easy and convenient way to keep your computer system in good shape at all times.