Data Recovery Services Temecula
Data recovery is a process in which inaccessible data from damaged or corrupted media, file or secondary storage is retrieved. The process involves four phases, which are repairing the hard disk drive, imaging the drive to a new drive or a disk image file, logical recovery of files and then repairing damaged files that have been retrieved.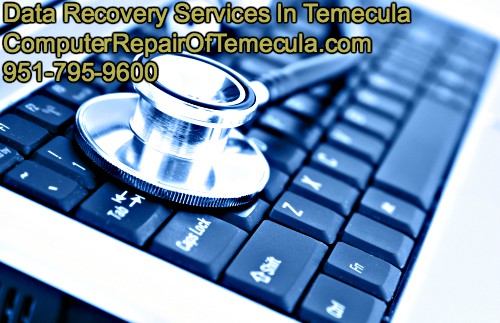 Therefore, Computer Repair of Temecula is your prefered company to help in data retrival, from computers, hard drives and Raids whenever data loss occurs. The loss maybe as a result of hardware failure, human errors, natural disaster, accidental deletion of files, and software corruption among others. In addition, repairs are made to hard drives before data is retrieved from them. One of the most important data recovery analytics is the free data recovery services, whereby there is a policy that, No Data-No Charge, which means that there will be no charges whatsoever when data recovery is not possible to be successfully carried out. Therefore, this boosts the confidence that the clients have because the Data Retrival Temecula would not make such a promise if they did not have full confidence in their work. This data retrival Temecula Services has been used all over Temecula and also in California for a long period of time. The company also recovers corrupt or inaccessible data within a short period of time ensuring that speed, quality and reliability are always maintained.
Computer Repair of Temecula data retrivals personnel are capable of restoring and recovering any amount of data regardless of whatever caused the data loss, damage or corruption. 100 per cent recovery is assured whereby the recovery specialists use advanced data extraction processes and apparatus and handling the task in a contaminant free setting so as to avoid items and particles that could damage the computer. Security is maintained so that client's documents and personal information is not stolen by anyone.
The computer Repair of Temecula usually will advice that in any circumstance of data loss, the system power should be put off so as to prevent eternal and irrevocable data loss. The company as well deals with physical repair of hard drives and also recovering database system such as Microsoft Access. There are also emergency hard drive recovery services whereby the specialists handle any emergency data loss situation that may crop up.
The company offers free consultation services and the charges for the data recovery services are competitive, as the client is made aware of what he is being charged for, hence the free consultation, which is an extra service, is nothing to worry about for the company.
The Computer Repair of Temecula understands how infuriating it is to lose data hence the data retrieval experts work so as to ensure that the lost data is recovered and whatever had been damaged is repaired by successfully carrying out the process.
In summary, the data retrieval Temecula services at Computer Repair of Temecula include hard drive data recovery services, computer services, IT Services, computer repairs, external hard drive data recovery and cell phone repair services among other related tasks. For more information feel free to visit ComputerRepairofTemecula.Com